In 2013 I went on a working trip to the Seychelle Islands with a group of Italian artists. The project was organised by ARS ET NATURA.
They are a group of artists and passionate naturalists, who believe in the importance of bringing through their work, better awareness of the natural world and the role of conservation today. In Italy this is an uphill struggle but through their exhibitions, catalogues, teaching and events and online presence, they are making themselves an important force.
Blog: http://arsetnaturaseychelles.blogspot.it/
Web Page: http://arsetnatura.blogspot.it/2015/04/il-blog-del-progetto-ars-et-natura.html
Facebook Page: https://www.facebook.com/pg/ArsetNatura/about/?ref=page_internal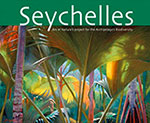 We visited many islands and made notes on our impressions and the wildlife that inhabits the fragile habitats above and below the sea surface.
In 2015, an exhibition and a rich, fully illustrated art book on the Seychelles' flora and fauna, was presented first in Rome and then in the Seychelles.